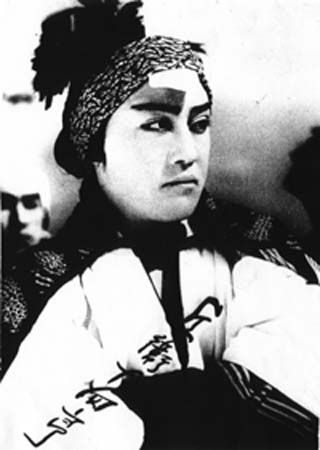 puctures:above and below
"Sakebu Kojin Yama"(April '34)
(Ninkichi Kira)

Jushiro Konoe Real name : Toraichi Megro
Born in April 10th 1914. Birthplace : Nagaoka City, Niigata

After finishing technical highschool, he had once worked for a railroad construction office.
Then he became an intern of *Utaemon Ichikawa's Production
in Nara to be an actor.
*U. Ichikawa('07-'99) is one of the most popular chambara movie star.

Then, Nikkatsu, a movie company, was interested in his unusual baseball skill and drafted him.
Since it was his baseball that they were interested in,
he was not more than a part of an officer crowd in movies.

In 1934 when he was 20,
he was asked by the Asia Movie Company and got his first leadingr role in 'Sakebu Kojin Yama' (see the first and second picture) which was also the first work for the company.
One month laterr, he played another leading role in 'Kyokukiri Kaido Tabi'.

But, it was not easy for a small enterprise like the Asia Movie Company to survive. It went bankrupt without making enough money.

When Dirctor Sentaro Shirai started the Daiichi Movie Company in the same year, Konoe who respected him followed and played a leading part in 'Tenpo Karakuri Den'.
The compnay failed again this time.

In 1935 when Konoe was 21, he moved to the Daito Movie Company as Director Shirai did.